Spanish Point Technologies Recognized for International Growth at Annual Technology Ireland Industry Awards
November 20, 2023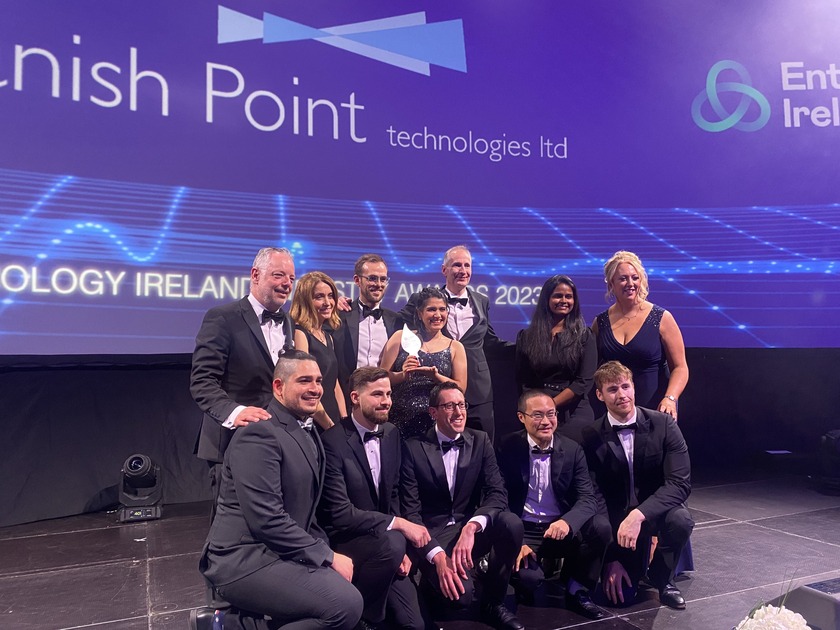 Dublin, Ireland, 17th November 2023 – Spanish Point Technologies are thrilled to announce that it has been recognized for the Outstanding Achievement in International Growth award at the Annual Technology Ireland Industry Awards held at the Mansion House in Dublin. This prestigious award recognizes the company's unwavering commitment to innovation and its dedication to empowering Copyright Management Organizations (CMOs) worldwide.
The Technology Ireland Industry Awards, a highly regarded event in the Irish technology sector, celebrates companies that have demonstrated remarkable achievements, developed innovative technologies and partnerships, and attained significant sales milestones over the past year. Spanish Point Technologies' well-deserved accolade validates the company's strategic investment in its innovative Matching Engine solution.
Driving App Modernization in the Copyright Management Industry
The Matching Engine is a cutting-edge solution that revolutionizes app modernization efforts within CMOs. The solution is not only employed in Ireland but has also been adopted across the globe, with deployments in Canada, the United States, France, Greece, Spain, Italy, and Hungary.
Built upon Microsoft Azure's cloud architecture, the Matching Engine will oversee a vast collection of over 50 million musical works contributed by 1.6 million songwriters worldwide. This solution encompasses different modules designed to rectify metadata errors, ensuring cost efficiency, scalability, and precise tracking of music royalties for CMOs.
Spanish Point's Innovation and Excellence
Founded in 2005 by John Corley, CTO, and Donal Cullen, CEO, Spanish Point has established itself as a leading Microsoft Partner in Ireland. Headquartered in Dublin, the company specializes in providing expert consulting and solution-building services centered on Microsoft's core information and related technologies.
Furthermore, Spanish Point offers a comprehensive range of consulting services, encompassing architecture, design, implementation, quality assurance and testing, training, project management, support, and managed services. Since 2007, the company has played a pivotal role in assisting Copyright Management Organizations in transforming the collection and distribution of performing and reproduction of music rights royalties.
---
Autor: Scott Crowley